Indian house names, naming a home, names for grahapravesh, hindu home names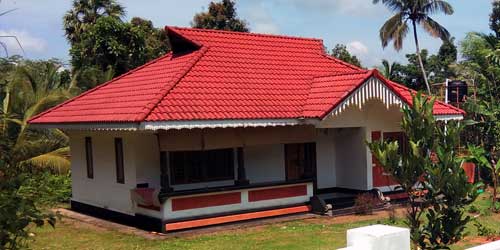 Like naming a baby, finding a suitable name for your home is equally important as the name stays with the house address for a lifetime. An auspicious house name will surely bring the fortune and luck the home dwellers require for a happy living. A unique name will surely highlight your home in a crowded residential locality and brings an amount of individuality.
A general guideline while naming a house is not to have two houses with the same name in the same locality. This will rise to confusions for address seekers and will also result in mails, milk and other essential commodities being delivered to wrong address. So when you have decided on a name, survey the locality to see that the name is not in use.
It is common among Indians to name the house after holy cities, hindu gods, daughters, sons, wives name etc. When naming the house this way, you prefix the Sanskrit name for a dwelling place such as Nilaya, Nivas, Bhavan etc with the name. Example Lakshmi Nivas, Ganesh Nivas etc.
Do also check our Modern Apartment, Villa names page if you want some thing modern to match your home style.
Alphabetic list of beautiful Indian names for a house, names for your home
Please Click on the house name to Save it to Favorites and View Saved Names later
Indian House, Home names A

Aabharana = Jewel
Aalayam = Home
Aavaas = Home
Aastha = faith
Aikya = oneness, harmony, unity
Alakapuri = A mythical city in the Himalayas
Alakananda
Akshi = existence
Ambar = sky
Amrita = full of nectar
Anmol = Priceless
Anugraha = Blessings
Avadh = ancient Hindu kingdom
Ashraya = shelter, dependant

Indian House, Home names B

Bhavan = Home
Bansuri = Flute
Bheem = tremendous
Bhuvana = the earth
Bhuvi = Heaven

Indian House, Home names C

Cauvery = A river
Chaaya = Shadow
Chahna = Love
Chitra = Painting
Chaman = Garden
Chameli = A creeper with flowers
Champa = A flower
Chitrita = beautiful, decorated

Indian House, Home names D

Daya = Merciful
Daiwik = Divine
Darpana = Mirror
Deepa = A lamp
Dhanya = Thankful; Lucky
Divya = Divine
Divyajyothi = Divine light
Divyasree = Divine
Dwaraka = Holy city Sri Krishna lived
Dwarakapuri = Holy city Sri Krishna lived

Indian House, Home names E

Ekaa = Goddess Durga
Ekaparnika = Goddess Durga
Ekta = Unity
Ela = Earth
Elina = pure, intelligent
Esha = Desires and Pleasures
Eta = Luminous

Indian House, Home names F

Falguni = Beautiful
Forum = Fragarance
Fulki = Spark
Fullan = Blooming
Fulmala = Garland

Indian House, Home names G

Gajra, Gajara = garland of flowers
Ganesa = good luck
Gaurishankaram = Abode of Shiva and Parvati
Gina = Silvery
Ginni = Precious gold coin
Godavari = A river
Gokul = a village near Mathura
Gokulam = a village near Mathura

Indian House, Home names H

Hastinapuri = Capital city of Mahabharata
Hansamala = a line or row of swans
Hem = Gold; Lord Buddha
Hemaprabha = golden light
Hemaadri = mountain of gold
Hima = Snow
Himalaya = A great mountain

Indian House, Home names I

Idha = Insight
Iha = Wish
Ihita = Desire
Ijaya = Sacrifice
Iksha = Sight
Ila = Earth
Illam = Home
Iyla = Moonligh

Indian House, Home names J

Jaitashri = name of a music raaga
Jagat = world
Jahan = world
Jatan = Nurturing
Jatasya = The Ocean

Indian House, Home names K

Kaajal = Muscara
Kadamba = name of a tree
Kadambini = clouds
Kalpana = Imagination
Kanchan = Gold
Karishma = Miracle
Kaveri = A River
Kavya = Poem
Kusum = Flower
Kutir = Cottage
Kousthuba = Garland of Lord Vishnu

Indian House, Home names L

Laabha = profit
Ladhi = Sangeet
Lakshita = Distinguished
Lakshya = target
Lalam = Jewel
Lata = Creeper
Lumbini = birth place Buddha

Indian House, Home names M

Maanika = ruby
Mala = String
Malashree = an early evening melody
Mamata = Love, affection
Maya = Illusion
Megh = cloud
Mithila = Sita devi's birth place
Mithilapuri = Sita's birth place

Indian House, Home names N

Nabanipa = A new flower
Nakti = Night
Nakshatra = Pearl
Narmada = name of a river
Navita = New
Nele = Abode or home in Kannada
Nidhi = Wealth
Nilaya = home
Nikunj = bower, birds nest
Nithya = Eternal
Nivriti = Bliss
Nivas = dwelling place
Niyati = Destiny

Indian House, Home names O

Oditi = Dawn
Onella = Light
Om = sacred hindu symbol
Oni = Shelter

Indian House, Home names P

Padma = Lotus
Padmalaya = lake of lotuses
Panchajanyam = holy Conch of Lord Vishnu
Paras = A Miraculous Stone which turns anything it touches into Gold
Pavitra = Pure
Parnakutir = a sage's hut in jungle
Piyali = a tree
Pooja = Prayer
Poonam = Full moon
Prabha = Light
Prakriti = Nature, Beautiful
Prarthana = Prayer
Prateeksha = Good hope
Prem = love
Punit = Holy
Pushpak = vehicle of Lord Vishnu

Indian House, Home names R

Rachana = Creation
Raga = Melody
Ragini = Melody
Rochi = Light
Ronak = brightness, radiance
Rohana = sandalwood
Rukma = Gold
Rupal = Made of silver
Ruth = Season

Indian House, Home names S

Saachi = Truth
Saagar = ocean
Saanjh = Evening
Sahira = Mountain
Sahitya = Literature
Sahoj = Strong
Samruddhi = Prosperity
Sana = Praise
Sannidhanam = holy place, temple
Sannidhi = holy place, temple
Shanthi = Peace
Shubh = Fortunate, good luck
Sopanam = Song presented in Temple steps
Souparnika = Holy river in Kollur Mookambika
Spandana = Sensation, motivation
Srishti = creation
Sudarshanam = auspicious sight/ weapon of Lord Vishnu
Sukriti = Beautiful creation
Syamantak = a jewel of lord Vishnu
Sridham
Sweta = fair, white

Indian House, Home names T

Taj = Crown; Jewel
Tamanna = Wish
Tamasa = a river; darkness
Tapani = the river Godavari
Tara = Star
Taraka = star
Tejal, Tejas = Bright
Tejasvi = Energetic
Tusti = peace, happiness
Thryambakam = Lord Shiva, three eyed one

Indian House, Home names U

Udaya = dawn
Ujas = bright, shining
Ujhala = Light
Ujjayini = an ancient city
Uttam = best
Utpal = the beginning

Indian House, Home names V

Vajra = diamond
Vaikunta = heaven
Vaisaka = A Season
Valli = creeper
Vanalika = Sunflower
Vanani = forest
Vandana = Adoration
Vanmala = wildflower garland
Vara = Blessing
Vasant = spring
Vimal = Clean
Vrishab = Excellent

Indian House, Home names Y

Yahvi = Heaven, Earth
Yamini = Nocturnal
Yamuna = Holy river
Yashica = Success
Yashila = famous
Yukta = Idea
Do check our modern apartment, villa names page.
Take a quiz on Indian names and meaning and test your knowledge.
If you would like to contribute to this house names list, send a mail to [email protected].