Posted on

January 18th, 2011 by

Prem
Our post this time features the list of cricketers who are selected for the ICC Cricket World Cup 2011 to represent India. The action starts in February. We are sure a lot of Indian cricket fans may name their kids after the stars of ICC World cup 2011.
M. S. Dhoni (Captain)
Virendar Sehwag (Vice Captain)
Sachin Tendulkar
Gautam Gambhir
Virat Kohli
Yuvaraj Singh
Suresh Raina
Harbhajan Singh
Zaheer Khan
Munaf Patel
Praveen Kumar
Ashish Nehra
R Ashwin,
Yusuf Pathan
Piyush Chawla.
4 Responses to "Names of Indian players for Cricket World Cup 2011"
Leave a Reply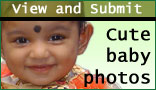 Follow on Twitter
Blogroll
Categories