Archive for the 'Fun Stuff' Category
Posted on

August 1st, 2017 by

Prem

(1) Comment
Here is a list of funny Indian gangster names which you can look and have a good laugh. You can choose a funny name as per your first alphabet of first name or first letter of last alphabet. Sure, fun guaranteed, do forward to your contacts.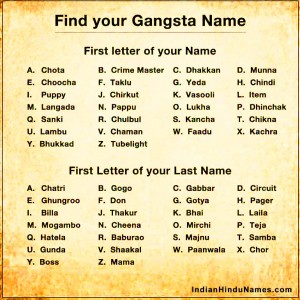 Posted on

November 24th, 2016 by

Prem

(4) Comments
As we gear towards another season of the popular show Bigg Boss 10 2016, we present you the list of names of the Bigg Boss 10 2016 contestants.
Monalisa - Antara Biswas, known as Monalisa is a Bengali actress who has appeared in more than 100 Bhojpuri films.
Lopamudra Raut - Lopamudra is an Indian model and beauty queen and an engineer by profession. She represented India at Miss United Continents 2016 pageant and was crowned 2nd runner up.
Manveer Gurjar - He is from Aghapur in Noida and a farmer. He wanted to become an actor but could not pursue this dream.
Nitibha Kaul - Kashmiri 23 years old and a Google employee in their Marketing Solutions. Was the first runner-up in the show Dabur Miss Rose and was also selected in the Times Fresh Face Delhi.
Rohan Mehra - 27 years old Rohan is an Indian television actor and model. Known for his role of Naksh Singhania in the TV serial Yeh Rishta Kya Kehlata Hai.
Gurbani Judge - Bani, also known also as VJ Bani is an Indian VJ, model and television host. Bani was the runner up of MTV Roadies and hosted seasons 6, 7, 9 and 10 of the same.
Lokesh Kumari Sharma - Non celebrity contestant Sharma is a 25-year old student from Delhi.
Karan Mehra - Indian television star, model and fashion designer. Karan played the lead role of Naitik Singhania in the television series Yeh Rishta Kya Kehlata Hai.
Akanksha Sharma - Stage actress and Haryanvi writer.
Manu Punjabi - From Jaipur, He participated in The Bachelorette India: Mere Khayaalon ki Mallika in 2013.
Gaurav Chopra - Another Indian television actor. He was in the television series  Pati Patni Aur Woh, Karma and Left Right Left.
Priyanka Jagga - Jagga is a recruiter in marketing from Delhi. Priyanka Jagga was one of the commoners who got shortlisted.
Rahul Dev - Rahul is a former model and now actor who works in the movie Industry across India.
Navin Prakash - Poet, activist and public speaker, Navin Prakash is a 26-year-old teacher from Bihar. He is now living in Kolkata.
S Sadachari Saibaba Omji - 59 years old social, religious and political leader from Delhi, India. He has a PhD in Astrology.

Posted on

December 21st, 2015 by

Prem

(2) Comments
Do you have a movie or television show that is your favorite? Do you have a favorite character in a book or in these shows? Well, then why not let these inspire you to name your baby. Here is a short and simple list, along with the meanings of some of the most popular characters from movies that you might like as ideas for your baby name. You can choose either by the name itself, if you love it, or you can also choose by the particular meaning of each name.
Girl Names
1. Ananya – This name means unique or without a second and was inspired by the movie of Chetan Bhagat's 2 States, which is a Hindi movie.
2. Jhanvi – This name means Ganga the river and it was inspired by the Hindi flick called Wanted.
3. Laila – This name means night and was inspired by 2 different Hindi movies, including Zindagi Na Milegi Dobara and Laila Majnu.
4. Rehana – This name means one who is merciful and was inspired by one of the best Hindi movies called Once Upon a Time in Mumbai.
5. Zoya – This name means caring and loving and was taken from 2 of the most popular Hindi flicks called Ek Tha Tiger and Raanjhanaa.
Boy Names
1. Aakash – This name means upper sky and is inspired from Hindi movies, including the beloved Dil Chahta Hai and Anjaana Anjaani.
2. Ishaan – This name means Vishnu or bringer of riches and is also inspired by some Hindi films, including Kai Po Che and Taare Zameen Par.
3. Rakesh – This name means ruler of full moon day and it comes from the Hindi flick Bunty aur Babli.
4. Rahul – This name means Conqueror of miseries and Buddha's Son. This has been the favorite name for many Shah Rukh Khan characters.
5. Viraj – This name means resplendent or splendour and also from a Hindi cinema called Kambakkht Ishq.
Why settle for something that everyone else is already using when you can have something unique that was inspired by some of your favorite movies. Not only is this a good way to name your child, but it also gives you an excuse to go back and re-watch all of your favorite flicks searching for the perfect name. Go ahead and start searching for the perfect name for your child, even if it means checking out some new movies.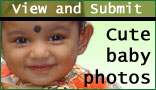 Follow on Twitter
Blogroll
Categories